Customer Reviews
Write a Review
Ask a Question
Filter Reviews:
chin
breakouts
mirror
pinkish
bumps
congestion bumps
cheeks
skin texture
friends
face
17/08/2020
Amy T.
Australia
holy grail product
I always had these little congestion bumps on my face and everytime I touched my face I'll feel all these bumps on my cheeks, my cheeks was red/pinkish and my skin texture overall didn't look good but ever since I used this ive been telling my friends about it. this has made my skin texture brighter overall, my congestion bumps has reduced so much compared to how it was and I've only used this for a week!! my face is no longer red and my breakouts especially on my chin has really cleared up. can look in the mirror without being insecure of my skin! I love this product and will continue to buy it from now on. Thank you so much!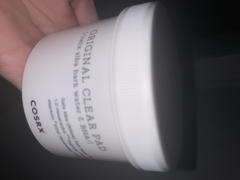 Great
This cleaning pad is so convience and gentle with my sjin. I love this pad, not only help to remove my dead skin but also clean the pore!
convenient
Must have item!! Now I cannot live without this.... I use this after face wash before starting my makeup. I don't need to bring heavy skin care bottle anymore. It makes me save skin care time a lot.
Good
This clear pad is so convinience. It helps me clean the dead skin and excess sebem but still provide hydrating. love this product!
MUST HAVE
I have sensitive skin and acne-prone. This product has became my holy grail. It helps so so much for my **** *** acne skin. But seriouly am helping you gurls who has acne skin like me. Buy this product and it will change yo lyfe!