ACNE 101: Causes, Solutions and Tips
If you are suffering from acne, don't worry - you are not alone! Acne is the most common skin concern which affects 85% of aged 15-24 years old in Australia.

So, what is acne? Acne is a skin condition that occurs when there is oil and dead skin cells plugged within the follicle that leads to a blockage in pores. This causes the formation of whiteheads, blackheads, pimples or acne breakouts. It usually appears on the face, forehead, and chest and on the body. Acne is one of the most common skin concerns among teenagers, yet it affects adults and beyond.

Even though acne is not a dangerous skin concern, yet it is very important to treat your acne well as it can cause acne marks and scars behind. Learn more about the causes and how to resolve and prevent acne while maintaining a clear and clean skin with our best acne-fighting skin care.
---
WHAT ARE THE CAUSES
Acne occurs there is an increase in oil production that causes the blockage of oil glands (pores). Hair follicles are clogged and blocked by oil and dead skin cells. The build up of oil plugs the pores, which can appear as whiteheads. Whiteheads turns into blackheads once they are exposed to air. They enlarge the follicle, allowing bacteria and irritating substances to go into the deeper layers of the skin, resulting in inflammation. 

Many other risk factors such as hormone changes or menstrual cycle, anxiety and emotional stress, misuse of oil-based makeup, mistreatment of acne and pimples, unbalanced lifestyle and diet can also lead to acne breakouts.
---
SOLUTIONS TO ACNE
Acne is not a serious skin issue so don't you worry! It can be easily treated when you use the right skin care. Here are some of our best K-beauty products for acne-prone skin that help treat acne and keep your skin clean and clear again!
Clean and Clean with Mild & Anti-bacteria Cleanser and Exfoliator:
As acne is formed due to the oil and dead skin cells build up, doing your cleansing right can play a big role in treating and preventing acne and breakouts.
Acne-fighting cleanser with anti-bacterial and anti-inflammatory properties can be a game-changer in treating and preventing acne. Cleansers with ingredients such as Benzoyl Peroxide, Tea Tree, Salicylic Acid, Green Tea which effectively cleanses impurities within pores and removes old dead skin cells that block pores, while heal and sooth acnes.
Some of our picks are COSRX AC Collection Calming Foam Cleanser, THE FACE SHOP Dr.Belmeur Clarifying Bubble Foam Cleanser and COSRX Salicylic Acid Daily Gentle Cleanser.
Exfoliate to keep acnes and blackheads from forming! We suggest exfoliating once to twice a week to keep your skin clean by removing dead skin cells and impurities deep inside your pores. We love using THE FACE SHOP Smart Peeling White Jewel and THE FACE SHOP Jeju Volcanic Lava Deep Pore Cleansing Foam Scrub that effectively absorbs sebum and cleanses the pores.
P.S. Do not use scrubs and do excessive exfoliating during breakouts! It will cause further irritations and damage to skin!
Prevent dead skin cells build-up with Peeling Gels! Peeling gels is one of the most effective way to prevent breakouts as they dissolve all the dead skin cells and impurities which leads to acne and blemishes. If you are not into scrubs or if you feel like they are too harsh for you, then try using PYUNKANG YUL Peeling Gel. This gentle and mild exfoliator is designed for sensitive skin to remove dead skin cells to improve skin complexion with betaine salicylate while calming and soothing the skin at the same time.
Skin-Savers during breakouts:
We highly recommend trying the following skin care ranges that best treat acne, control breakouts and inflammation.
Best for treating teen acne, COSRX AHA/BHA Clarifying Treatment Toner alleviates acne rapidly and cleanly by controls dead skin cells and excessive oil production, minimizing irritation and removing acne-causing bacteria effectively.
Looking for a fast-acting treatment? COSRX AC Collection is your new best buddies! COSRX's new launched AC Collection is specially designed to treat breakouts and heal acne with CentellAC-RX*. By using Calming Liquid Mild and Blemish Spot Clearing Serum during your breakouts, they effectively absorb excessive sebum and clear out existing acne with BHA and AHA while giving soothing and calming effects to your inflamed areas too.
Fixing on the Spot:
Spot treatments that fix the problem on the spot!
Acne patch is your BFF! We are pretty sure that you are all familiar with acne patches when it comes to spot treatment. Hydrocolloid patches like COSRX Acne Pimple Master Patch gives an intensive treatment that calms and protects wounded areas while healing and prevent further infections from external pollutants. They come in different sizes depending how much coverage you need. Not only do they clear out your pimples quickly, they are also very easy to apply and peel-off!
Spot creams and ampoules that kick away your acne clean and fast! THE FACE SHOP Dr.Belmeur Clarifying Spot Calming Ampoule help calm and sooth trouble spot areas while clearing out pimples, dead skin cells and impurities deep within pores. Spot creams like COSRX AC Collection Ultimate Spot Cream effectively dry out acne overnight with skin-recovery complex and antimicrobial and anti-inflammatory properties.
Repairing & Recovering:
Repair and calm your acne, and say goodbye to acne scarring! Formulated with Centella Asiatica – star ingredients for wound healing and repairing properties, COSRX Pure Fit Cica Serum and Cream mild skincare range calm and heal problematic areas while preventing future breakouts. Their healing prosperities effectively help repair, recover and regenerate damaged skin, which prevents and reduces scarring. They also hydrate skin while reducing inflammation inside the pores as well as minimizing the appearances of blemishes. They will be your best friends, especially for those with sensitive skin!
Featuring Tiger Grass complex, which is well known for its outstanding healing and recovering power, the high concentrated and fast-acting DR.JART+ CICAPAIR Serum and Cream are specially designed to recover wounded skin experiencing inflammation, redness, or blemishes. We highly recommend this range for fast healing, repairing and soothing effect for acne-prone skin.
One, two drops for skin recovering. Add in a few drops of THE FACE SHOP Dr. Belmeur Advanced Cica Peptide Ampoule with your moisturizer to help recover damaged skin and boost the skin generation process. This powerful repairing ampoule also strengthens skin barrier and improve skin texture with Centella Asiatica extract and peptide complex.
Clarifying & Preventing & Maintenance:
As we mentioned above, acne comes from whiteheads and blackheads. That's why it is important to manage and well your skin when those appears. Keep whiteheads away with COSRX AHA 7 Whitehead Power Liquid, as it is a gentle yet effective daily exfoliant that melts away oil, impurities and whiteheads stuck within pores. It delivers moisture and nutrients and brings back your clear and healthy skin with cleaned pores.
How to get rid of blackheads and prevents breakouts? You will need a powerful yet gentle exfoliant like COSRX BHA Blackhead Power Liquid that sweeps away stubborn blackheads and sebum within pores while healing blemishes and preventing skin from further breakouts.
P.S. Apply this on clean and toned skin. And remember to wear sun cream after using this in the day time!
One pad that does it all! Maintain your skin well with a good toner pad like COSRX One Step Original Clear Pad. The award-winning pads dissolve dead skin cells and exfoliate skin with Betaine Salicylate and Willow Bark Water. They are the best when it comes to preventing breakouts and controlling acnes. You can also use this to treat your blemishes on your chest and your back.
Control the breakouts! Look for skin care that helps kill bacteria and stop the breakouts, just like COSRX Natural BHA Skin Returning A-Sol! This toner contains natural AHA and BHA to control excess sebum, cleansing impurities. It also repairs and hydrates skin with 69.8% Black Bee Propolis while inhibiting bacterial growth.
Use this along with COSRX Natural BHA Skin Returning Emulsion for the best result as it boosts the function of the toner by preventing excess sebum production and blemishes from forming while maintain skin's hydration level.
Clear it out and clean it out! THE FACE SHOP Dr.Belmeur Clarifying Range is a low-irritant clarifying skin care range that cares sebum, maintains skin's oil and moisture balance and minimizes skin irritation. Their Clarifying Toner and Moisturizer keeps skin clean and clear, while caring for hyper-pigmentation and acne scarring. *Non-comedogenic test completed.
Mask as a Treatment:
Just 10-20 minutes and there you go! If you want a fast and effective treatment, mask sheets can be a way to control and calm your pimples and blemishes. MEDIHEAL Tea Tree Care Solutions Essential Mask is packed with all the benefits for controlling sebum production, exfoliating and healing acne scars while soothing and calming redness and inflammation from pimples, acne and blemishes.
Mask sheets like MEDIHEAL P.D.F. AC-Defense Hydro Nude Gel Mask, concentrates on trouble areas and instantly gives a soothing and refreshing sensation with acne-fighting ingredients such as Centella Asiatica, Triclosan and Salicylic acid.
P.S. Love this mask as it has twice the amount of essences comparing to the normal one.
Mask time for calming, soothing and repairing. As your skin gets red and irritated from the breakouts, it is good to throw on some calming mask like DR.JART+ Cicapair Calming Mask. This mask is formulated with tiger grass complex that helps recover your damaged skin while relieving the irritation and redness. Highly recommended for sensitive/red, oily and acne prone skin.
Rub some mud on your face to clear out everything. THE FACE SHOP Jeju Volcanic Lava Pore Mud Pack features Jeju Volcanic Ash to effectively remove excessive sebum while deeply cleanses impurities and dirts within your pores. If you want something more foamy and creamy, try THE FACE SHOP Jeju Volcanic Lava Clay Mousse Pack that leaves your skin clean and clear by dissolve dirts deep inside pores while keeping skin soft and moisturized.
Looking for overnight miracles? Check out COSRX Full Fit Propolis Honey Overnight Mask that takes care of problematic areas with 0.9% BHA, glycerin and centella asiatica leaf water. It reduces the appearances of blemishes, acnes while hydrating your skin overnight.
Oil-Free Sun Screen that do not clog your pores:
Remember to wear your SPF even when you are breaking out. One of the best sunscreen designed for acne-prone skin is definitely COSRX Shield Fit All Green Comfort Sun SPF50+ PA++++. Not only does it provides strong UV protection, its Centella Asiatica and Water Lily Flower extracts help heal and sooth acne while reducing redness. Also, it contains black mugwort extract which is well known as the 'healing herb' due to its powerful anti-bacterial and anti-fungal properties, making it a star product for heals blemishes, smoothes and plumps acne-prone skin.
Another of our favorite sunscreen picks for acne-prone skin is COSRX Aloe Soothing Sun Cream. This daily sun cream blocks UV rays and protects skin from irritations. It offers deep moisture with 5,500ppm Aloe Vera Leaf extract and soothes skin while balancing the oil and water level.
Wear sunscreens that are oil-free to avoid further irritations and infections, just like THE FACE SHOP Oil-Free Sunscreen. This UV protecting sunscreen contains sebum control powder for a non-sticky, matte finish while brightens skin complexion and protects skin from dryness with Sunflower seed extract and NMF.
You definitely do not want something that feels heavy and greasy on your face during breakouts. Hence, we recommend KLAIRS Soft UV Essence SPF50+ PA++++. Its super lightweight texture protects skin from the harmful UV rays, while improves skin moisture levels and repairs skin with Vitamin Tree Oil and Vitamin C.
Say no to comedogenic Makeup:
As we mentioned above, one of the acne causes can be the cosmetics products that you are using. Comedogenic products or greasy makeup clog pores, leading to acne and breakouts. Avoid using oil-based makeup and always look for non-comedogenic tested makeup products.
Makeup with skin-benefits? Yes please. Prep your skin with THE FACE SHOP Zero Fit Primer Poreless that helps control oil while smoothing skin and minimizing the appearances of pores.
Look for Makeup with Oil-free formula. THE FACE SHOP Oil-Free Cushion not only gives a flawless finish but also controls excess oil and balances between oil and water, leaving skin shine-free and greasy-free.
Keep your makeup shine-free and long-lasting with THE FACE SHOP Oil Clear Blotting Pact. Formulated with plant-derived Oil Absorbing Complex, it controls sebum secretion and skin problems while keeping your makeup matte and clean all day long.
---
EDITOR'S TIPS
Skin care can help treat and heal acnes but here are some additional tips that can further help and prevent this skin concerns:
Make sure to do your cleansing right! Using the right products for acne treatment is important, yet how to use and the way to use the products are also very crucial. For cleansing, make sure to wash your face gently and thoroughly. Do not scrub your skin as it will burst your pimples, leading to infections and scarring.
Avoid popping pimples. We all know that it does not look nice with pimples on your face, especially when before an important date or night out. Yet, try not to extract pimples as this is one of the biggest causes for acne scarring.
Do not touch you pimples or your face! Your hands can be full of bacteria which touching your face and pimples can cause further inflections and irritations.
Keep your lifestyle and diet healthy and balanced. A healthy lifestyle with regular exercising and balanced diet helps reduces the frequency of breakouts and improve acne significantly, especially among teens going through puberty.
Read More K-Beauty BONIIK Blog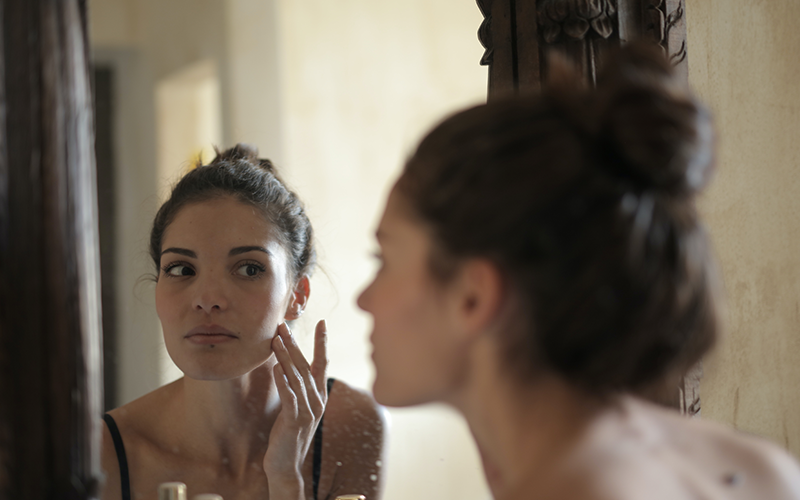 TIPS & TUTORIALS
Read more to find out what your skin concern is and what skin care products suit your skin the best!
Read more