Use Code: SET to redeem 15% off at checkout!
*Valid online + In-store while stock last. T&Cs Apply
Gift Wrap & e-Gift Card is available for your BONIIK orders!
142 products
Filters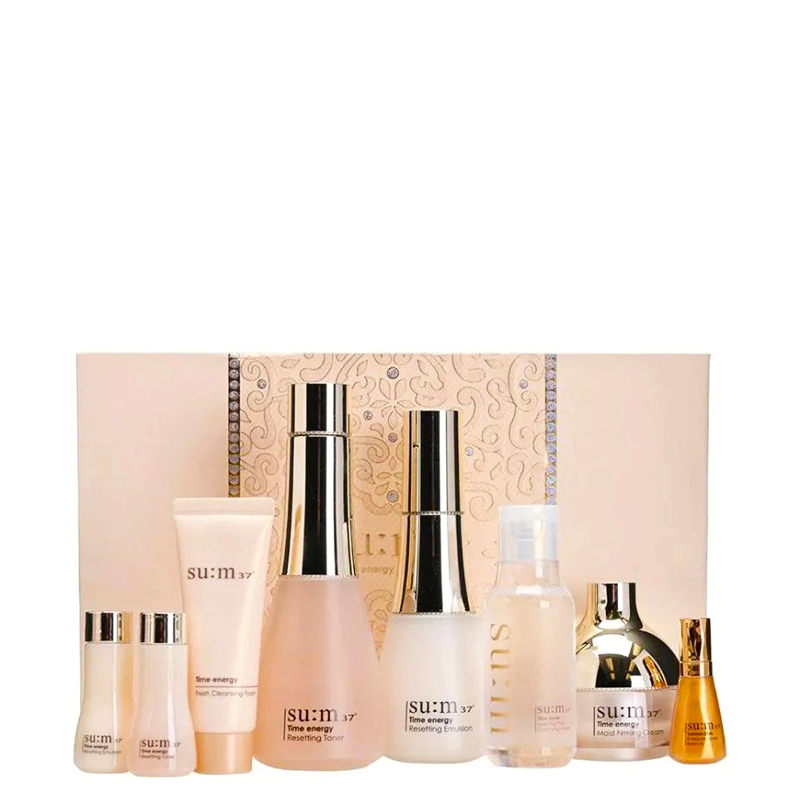 What are Korean skincare sets and kits?
Korean skincare sets comprise several different skincare products that have been conveniently packed, to make it easy for you to begin a new skincare regime or try different new products. Skincare sets and kits may often include full-sized and miniature-sized products from the same skincare line, allowing you to try different products and determine their suitability for your skin type and skin concerns. While the terms skincare set and skincare kit may be used interchangeably, skincare sets generally refer to full-sized products that have been packed together; while skincare kits are smaller versions or travel-sized products that are packed together.
How do you select the best skincare sets and kits?

In choosing the most suitable skincare sets and kits, you can first start by correctly identifying your skin type and skin concerns just like selecting any other beauty products to add to your skincare regime. A basic rule of thumb to follow when choosing Korean beauty products is to avoid artificial fragrances, colourants, or chemicals like drying alcohols, parabens and harsh surfactants that can irritate skin or increase its sensitivity. The best Korean skincare sets and skincare kits Australia would generally contain the most basic steps of a skincare routine; for instance, cleanser, toner or toner patches and pads, serum, moisturiser and sun care.
Why use a facial kit?
Facial kits have a variety of uses, the most common reason for getting skincare sets and kits is their convenience and ease of use especially when it comes to trying new product lines. Skincare kits are also excellent for travel or when you are trying to test how certain products and ingredients would benefit your skin before committing to a full-sized product. Skincare sets provide great value for a well-rounded skincare routine, as opposed to purchasing individual products separately and the addition of miniature-sized products can also let you try the entire skincare line to give your skin maximum benefits.
In addition, Korean skincare sets and kits make excellent gifting ideas for numerous occasions such as birthdays, anniversaries, Mother's Day, Christmas, Boxing Day or even just as a token of appreciation to the people who mean a lot to you. Its versatility makes it a thoughtful gift idea for recipients across different age groups.
For those with oily, acne-prone and troubled skin, it is recommended to look for ingredients that contain gentle exfoliators, antibacterial properties and deliver calming effects to the skin, in order for it to quickly alleviate redness and reduce breakouts. The use of gentle exfoliators and calming ingredients like tea tree, mugwort or Centella Asiatica in spot care and masks have been proven to help prevent breakouts, reduce irritation and strengthen the skin barrier to give it a smooth texture while repairing damaged skin. As such, skincare sets and kits that contain these ingredients will be highly beneficial for those with acne-prone, oily skin.
If your skin tends to be on the drier side, opt for skin care sets and skin care kits that contain skin barrier enhancing ingredients such as ceramides to repair and boost its resilience against external environmental stress. Additionally, incorporating deeply hydrating ingredients like hyaluronic acid or emollients like seed and nut oils into your everyday beauty essentials including facial mists, facial oil or masks can help soften and revitalize skin, leaving it healthy, glowing and silky-smooth.
Finally, if you have mature skin that requires more intensive care, select skincare sets and skincare kits that have anti-ageing ingredients such as Korean traditional herbs, peptides, adenosine and red pine which are known for their excellent firming and lifting benefits for the skin. Incorporating them into your anti-ageing skincare routine can help restore the skin's youthful glow, improve the appearance of deep wrinkles and fine lines and diminish age spots.
Apart from being a universally appreciated gift, skincare sets and kits provide great value with an entire step by step skincare routine included inside one package. Explore and shop Korean skincare sets and skincare kits in Australia at BONIIK, with our best Korean beauty brands for every skin type and skin concern.