SIORIS: The Pioneers of Modern, Fresh Skincare
What if you could lie down on a bed of fresh fruits, flowers and plants, maybe put on noise cancelling headphones and enjoy the calm, peaceful feeling of nature? A perfect break from a hectic city life, as we like to call it. Did you know, a new brand at BONIIK is about to give your skin a replica of that experience with its promise of delivering Simple and Original skincare products to nourish your skin? Have you guessed which brand we are talking about (no peeking!)?
Yes, SIORIS! SIORIS stands for 'Simple' and 'Original' which outlines the brand's promise and unrelenting dedication to continuously innovate and deliver the freshest, cleanest and purest skincare products using the most simple ingredients derived originally from nature. SIORIS' products use organic green plum water as its main ingredient, along with various other fresh fruits and plants that are harvested during its peak freshness and sourced from local, unpolluted farms in Korea. This way, you can rest assured that whatever is inside a bottle of SIORIS, it is a part of mother nature that your skin will absolutely fall in love with after the first try. With no added synthetic coloring, fragrances, silicones or preservatives, SIORIS strongly believes that this is how skincare should be and their commitment to create safe formulas that can be enjoyed by everyone regardless of skin type and concerns is what really caught our eyes!
Apart from using skin-friendly formulas, SIORIS also pledges to be an environmentally-friendly and sustainable brand, by using recyclable packaging to help minimize waste. Now for those gifted literacy learners, you may notice that SIORIS' products have quirky, catchy names that we think might have caught your attention because it definitely got ours! Excited to get to know SIORIS on a deeper level? Let's explore some of their popular products and unique blend of ingredients.
Love berries? We've got some for your skin too!
Omija or Schisandra Chinensis is known as five-flavour berry, it has a mix of sweetness, sourness, saltiness with a hint of bitterness and pungency all in a single berry. Wow, looks like our taste buds are in for a treat with this berry! Not only does it strengthen overall immune system, this berry is known for its potent antioxidant benefits, that prevent oxidation and premature aging of the skin while protecting it from external environmental stressors. It also helps deliver moisture and hydration to keep the skin well balanced, firm and revitalized. Omija has been scientifically proven to help improve skin resilience, elasticity and firmness for improved skin tone and vitality.
See that cute little bottle of pink ampoule? SIORIS A Calming Day Ampoule is packed with skin-loving antioxidants from organic omija fruit that soothes, protects and moisturizes the skin to help prevent and fade premature aging signs like fine lines. It is enriched with centella asiatica which is known for its anti inflammatory properties to keep skin calm and smooth.
Pair A Calming Day Ampoule with SIORIS Stay With Me Day Cream, a moisturizer formulated with omija which also gives its light pink tone. A must-have for sensitive or irritated skin, this day cream boosts moisture, strengthen and rebuild skin barier as well as protect it against stress. This moisturizer comes in a unique air pump to preserve the product's freshness.
Oats Don't Just Belong in Your Breakfast Bowl
Yes, you heard it right! Oatmeal is one of our healthy breakfast staples to help us power through an energetic day, but have you ever wondered how it can benefit your skin too? Oats are rich in a compound called saponins that naturally clarify skin, as well as zinc to reduce inflammation. In addition, oats help keep the skin's moisture and pH balance in check by calming, soothing and unclogging pores for smooth, clear skin.
SIORIS Bring The Light Serum is rich in skin-loving superfoods including oatmeal, broccoli and green plum water to improve skin tone, even out complexion and leave it looking radiant. It is made with 99% natural ingredients that deliver an abundance of antioxidants to gently fade dark spots while replenishing moisture for a youthful-looking complexion. The serum has a subtle, refreshing scent from the oats and plum which quickly dissipates when gently massaged.
An all natural exfoliator to scrub away dead, dull skin, eliminate comedones and finally reveal smooth, dewy skin – how can we refuse? SIORIS My Soft Grain Scrub is a non-irritating exfoliator made with 86% oatmeal and 10% brown rice to eliminate dead skin, excess sebum and impurities while keeping the skin calm. It has a powdery texture that you can mix with your favourite cleanser for the ultimate 'skin spa' experience. Let your skin relax in the antioxidant-rich mixture and reveal healthier complexion instantly!
Need an Express Skincare Routine?
Tick tock tick tock! The clock is racing against you but you still haven't applied skincare! Not to worry, we've got your back so you can save precious time with SIORIS Time Is Running Out Mist. A fun fact about this mist, to ensure that the products are fresh regardless of season, SIORIS switches between organic green plum water and yuja for spring and autumn production because these fruits reach their peak at different times of the year! Fascinating isn't it to see how a brand like SIORIS can be so dedicated to providing the freshest skincare to its consumers!
SIORIS Time is Running Out Mist is a versatile facial mist that acts as a toner, essence and hydrating facial spray that keeps your skin looking and feeling fresh all day. Formulated with Yuja and organic green plum water which is high in Vitamin C and antioxidants, this mist help deliver a quick boost of hydration to awaken tired, lifeless-looking skin. Yuja is an excellent source of Vitamin C to even out skin tone, illuminate complexion and leave a soothing sensation when applied.  It helps balance the skin's moisture levels by locking in hydration thanks to its seed oil content. With just a little shake and a few sprays, your skin will instantly feel more supple, energized and smooth.
Get Your Eco-Friendly Mask Sheet On
Nope, SIORIS did not forget the most needed skincare product to be your travel companion or relaxing buddy!
SIORIS Make It Bright Sheet Mask is an environmentally-friendly mask sheet made with natural tencel sheet derived from eucalyptus. It is soaked in essence containing 73% organic green plump water which boosts hydration levels, improve skin tone and revives tired, dull skin. Add niacinamide to the mix and you have the best f both worlds from Vitamin C and E to illuminate skin and whiten dark spots for smooth, lively and healthy appearance.
We've got our eyes on SIORIS, the next generation of organic, fresh and environmentally-friendly skincare that is going to have you wanting for more. What more can we ask for, really? Its skin-friendly formula is made with the highest quality, organic, seasonal ingredients that are harvested at their peak freshness for maximum efficacy in resolving your skin troubles. With its unrivaled commitment to continuously improve its product formulation while making the planet greener, SIORIS is definitely a brand that we would add to our skincare vanity!
Read More K-Beauty BONIIK Blog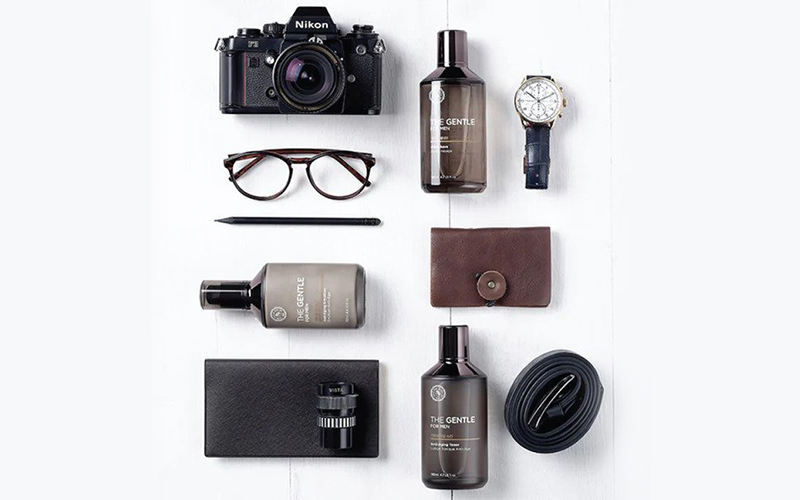 TIPS & TUTORIALS
Gents, put your best face forward with our selection of skincare products specially curated and designed to help you feel and look your best at all times!
Read more