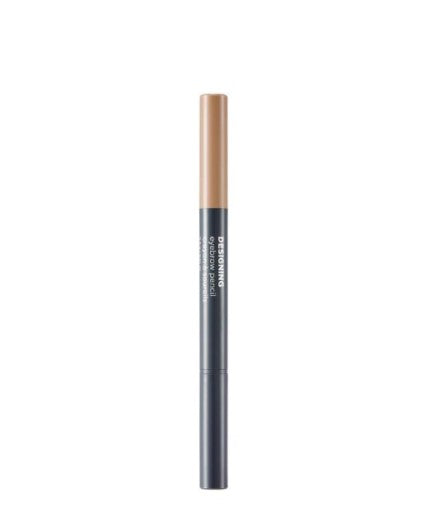 Designing Eyebrow Pencil
Sale price

$8.90 AUD
Regular price
(/)
THE FACE SHOP Designing Eyebrow Pencil - A daily eyebrow pencil that applies easily onto your eyebrow to give a natural-looking eyebrow.
With an easy and convenient flat, angled brow design and built-in eyebrow brush, it allows even beginners to achieve a smooth and natural-looking eyebrow at ease.
Available in 6 different colours, from light brown to dark colour to match a variety of hair colours.
Key Points:
Natural look
Powerful finish 
Angled brow design
Built-in eyebrow brush
Non-irritating finish
Size: 0.3g
MADE IN KOREA. All of our products are 100% authentic.
Follow the shape of your brows and fill in gaps using the pencil. Comb and brush brows with the brush tip for a more even and natural-looking finish. (CI 158501)
[01 Light Brown]
Hydrogenated Soybean Oil, Hydrogenated Coco-Glycerides, Hydrogenated Vegetable Oil, Zinc Stearate, Stearic Acid, Copernicia Cerifera (Carnauba) Wax/Cire De Carnauba, Polyglyceryl-2 Triisostearate, Tocopherol, Caprylyl Glycol, Phenoxyethanol, Ascorbyl Palmitate, Hexylene Glycol, Mica, Iron Oxides (CI 77499), Iron Oxides (CI 77492), Iron Oxides (CI 77491), Tittanium Dioxide, Iron Oxides (CI 77499),' Iron Oxides (CI 77491)

[02 Gray Brown]
Hydrogenated Soybean Oil, Hydrogenated Coco-Glycerides, Hydrogenated Vegetable Oil, Zinc Stearate, Stearic Acid, Copernicia Cerifera (Carnauba) Wax/Cire De Carnauba, Polyglyceryl-2 Triisostearate, Talc, Tocopherol, Caprylyl Glycol, Phenoxyethanol, Ascorbyl Palmitate, Hexylene Glycol, Mica, Iron Oxides (CI 77499), Iron Oxides (CI 77492), Iron Oxides (CI 77491), Tittanium Dioxide (CI 77897), Ferric Ammonium Ferrocyanide (CI 77510), Red7 (CI 158501)

[03 Brown]
Hydrogenated Soybean Oil, Hydrogenated Coco-Glycerides, Hydrogenated Vegetable Oil, Zinc Stearate, Stearic Acid, Copernicia Cerifera (Carnauba) Wax/Cire De Carnauba, Polyglyceryl-2 Triisostearate, Tocopherol, Caprylyl Glycol, Phenoxyethanol, Ascorbyl Palmitate, Hexylene Glycol, Mica, Iron Oxides (CI 77499), Iron Oxides (CI 77492), Iron Oxides (CI 77491), Tittanium Dioxide (CI 77891)

[04 Black Brown]
Hydrogenated Soybean Oil, Hydrogenated Coco-Glycerides, Hydrogenated Vegetable Oil, Zinc Stearate, Stearic Acid, Copernicia Cerifera (Carnauba) Wax/Cire De Carnauba, Polyglyceryl-2 Triisostearate, Tocopherol, Caprylyl Glycol, Phenoxyethanol, Ascorbyl Palmitate, Hexylene Glycol, Mica, Iron Oxides (CI 77499)

[05 Dark Brown]
Hydrogenated Soybean Oil, Hydrogenated Coco-Glycerides, Hydrogenated Vegetable Oil, Zinc Stearate, Stearic Acid, Copernicia Cerifera (Carnauba) Wax/Cire De Carnauba, Polyglyceryl-2 Triisostearate, Tocopherol, Caprylyl Glycol, Phenoxyethanol, Ascorbyl Palmitate, Hexylene Glycol, Mica, Iron Oxides (CI 77492), Tittanium Dioxide (CI 77891)

[06 Dark Gray]
Hydrogenated Soybean Oil, Hydrogenated Coco-Glycerides, Hydrogenated Vegetable Oil, Zinc Stearate, Stearic Acid, Copernicia Cerifera (Carnauba) Wax/Cire De Carnauba, Polyglyceryl-2 Triisostearate, Tocopherol, Caprylyl Glycol, Phenoxyethanol, Ascorbyl Palmitate, Hexylene Glycol, Mica, Iron Oxides (CI 77492), Tittanium Dioxide (CI 77891)
Designing Eyebrow Pencil
Sale price

$8.90 AUD
Regular price
Choose options