Customer Reviews
Write a Review
Ask a Question
Filter Reviews:
skin
mask
scent
face
skin tone
glow
application
cooling
blemishes
areas
24/06/2020
karla n.
Australia
Soothing mask
I love this mask!! Sooo cooling upon application which is most appreciated as I have acne prone skin so I find this mask soothes and helps heal my blemishes. I love the scent of this mask, it smells earthy with a medicinal hit when opened. My skin tone has evened out and has a glow to it. My skin is happy and I'm happy
Instant cooling and soothing sensation
I tried this mask the moment I got it in the mail. My skin is sensitized from using retinol for first time. It always feels warm and slightly itchy in some areas after washing my face even with just water, which makes me think that my skin barrier is compromised. The moment the mask touched my skin, I felt an instant cooling sensation and I felt it soothes my skin instantly. My skin looked brighter after washing off and it didn't look red! I followed up with the mugwort essence which I think made it more effective. Overall, I recommend this product for those with sensitized skin.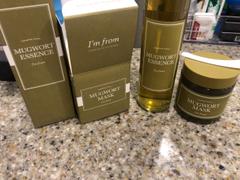 11/05/2020
audrey m.
Australia
nice and soothing
my skin was red because i was doing an at-home microdermabrasion. I used this product and it really helped soothe my skin.
14/04/2020
Clara N.
Australia
So cooling!
I love this mask! It's very hydrating and very brightening. It leaves my skin feeling refreshed and rejuvenated. It helps calm down redness in my skin too. I've seen a lot of reviews for this mask and a few people are not a fan of the scent. Personally, I kind of like the smell. It kind of smells like an Asian version of eucalyptus but refreshing like mint. It's kind of hard to describe. Or it could be described as a light scent of Asian herbal medicine but not the gross kind.